International Pet Transport To Cambodia
Dogs, cats or some other animals are the animals closest to humans. Currently, in some countries, these dogs are considered as part of the family, so finding a safe, reputable pet transport company is essential.
To be able to complete the procedures to help your pet go abroad or move to a multi-national area, it is necessary to go through many processes as well as be under the strict control of government agencies. The first thing to do is to get it vaccinated against rabies, usually at least 1 month before shipping
Customs procedures for transporting pets to Cambodia
Actually, this is quite complicated unlike when you express an item normally. Each country has completely different laws on the entry of pets, so in this article we only focus on Cambodia, a long-standing brother of Vietnam.
Particularly for Cambodia, you need to complete the following procedures:
Make a portrait photo stick on your pet's passport
Equipment for making shelters such as cages, foam boxes… must meet the standards of the parties involved
A certificate of rabies vaccination is required
Documents to prove that the pet has been quarantined according to international standards at the gate.
Implant electronic tracking chip set
Review your pet's activity during transit
You do not need to worry about whether your pets feel safe or not because during the trip, the supervisor will avoid letting the situation escape or have negative and noisy behaviors that affect the living environment. activities of other passengers, animals are placed in cages large enough for them to sit and stand, provide a good night's sleep, and restrooms.
Check out the airline that accepts pets in Cambodia
Not all airlines offer pet transportation, only a few can afford it. Depending on the type of aircraft, there are additional regulations on time, freight …
Related documents
Cambodia is not a country that is too difficult to import and export, we can go by both informal and official routes. In addition to the basic documents we have to provide many more things to certify that your pet is safe in the eyes of Cambodian and Vietnamese government agencies.
Phnom Penh is a city with a large number of knowledgeable people, they have a Western lifestyle, so it is understandable to love pet animals. During a decade, Vietnam has exported hundreds of thousands of different animals to Cambodia to serve the needs of the people's emotional life.
Regulations on materials for pet cages
For cages for cats and dogs on planes, they must meet the standards of material and size required by the current airline:
Pet cages must be made of hard plastic in accordance with IATA regulations, with a single door for the pet to enter and be able to prevent the animal from escaping or sticking its claws out.
The cage must allow the pet to stand, lie down and turn around comfortably. Pets must be able to stand upright without touching the top of the cage.
Types of pet cages on airplanes
The cage must have ventilation holes on three sides.
The bottom of the cage must have an absorbent lining.
All four sides of the pet cage must be secured with a drawstring.
Labeled Live Animals.
In the pet cage, there must be a tray/cup containing food and water.
Adhesive tape can be used to fix the pet cage.
Pet cage size requirements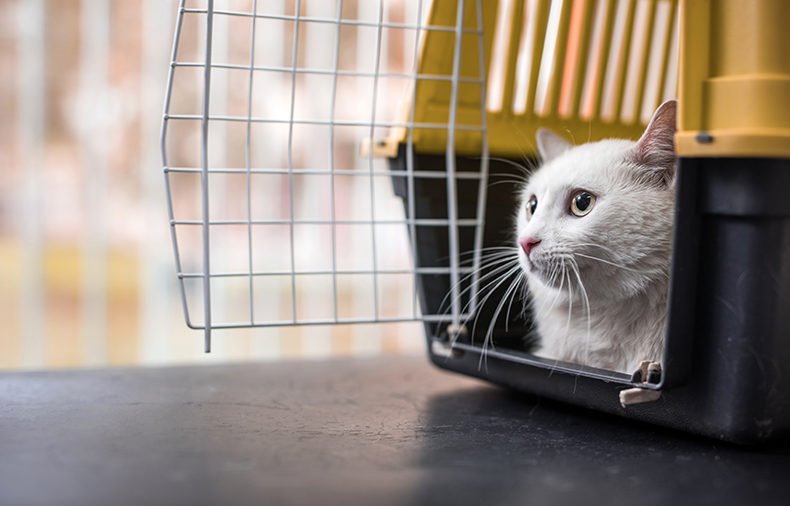 Introducing a company specializing in sending pets from Vietnam to Cambodia
ASIAPATA can be said to be an agent specializing in transporting many kinds of animals to nearly 200 different countries around the world, you can be completely assured of the quality of service we bring. With passionate and enthusiastic people operating in the transportation industry, we believe that we will win the hearts of customers in the near future.
ASIAPATA's reputable and quality pet transfer service to Cambodia
For many years, we have been specialized in exporting and importing pets to and from Southeast Asia and all over the world, specializing in Indonesia, Malaysia, Thailand, Philippines,…
Our specialist team has the expertise and ability to manage and arrange your pets travel wherever the destination, combined with our own staff located in Jakarta, Kuala Lumpur, Bangkok,…
We are the preferred supplier of many businesses and individuals in the international transport of pets, we will surely satisfy you.
Please contact us immediately so that your pet can experience the best service
Read more article about us at :
International Pet Shipping From Vietnam To Canada